Smoke alarm Installations
For a professional local electrician who can install your smoke alarms quickly and cost effectively, Ohms Electrical are here to help! Whether you are a domestic customer or a commercial landlord or tenant, we offer smoke alarm installation services in and around the Luton area, including Dunstable, Harpenden, Hitchin and surrounding areas check out the Areas we cover if not listed get in touch we may be able to help.
Call us today on 01582 932 533 or 01462 506 352 to book a site visit. Alternatively, drop us a message on our online contact form and we will get back to you.
Why Should I Have a Professionally Installed Smoke Alarm System?
Smoke alarms are, quite simply, life-savers. Although basic battery-operated models can be obtained for a few pounds from your local hardware shop, we recommend you invest in a fully-integrated electrical system. These offer greater protection and peace of mind, especially if you have a large or complex property, or you are a landlord with tenants. They are also a serious option for single private homeowners who want to protect their family and their home and prevent the worst from happening. Let Ohms Electrical Limited's expert electricians advise you on the best system for your budget and requirements.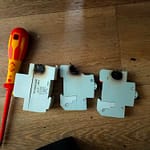 What Are the Benefits of Electrical Smoke Alarm Systems?
Having alarms installed in every room gives you complete peace of mind;
Integrated smoke alarm systems offer 24/7 monitoring with early detection capabilities;
Electric smoke detectors issue reliable audible alerts, so you don't need to worry about low batteries affecting performance;
You can also customise your system to include heat and carbon monoxide detectors.
Why Choose Ohms Electrical Limited?
With 15 years' experience of electrical installations, you can rely on Ohms Electrical Limited to keep your family safe. We are specialist installers of AICO systems. We will guide you every step of the way, from explaining the current regulation around smoke alarms, to advising you on the use of the different alarm grades, including D1, D2, F1 and F2. Please do not hesitate to call us to discuss your needs. We can be contacted on 01582 932 533 or 01462 506 352, or via email at hello@ohms-electrical-limited.co.uk. We will get back to you as soon as possible.
Need a Local reliable Trustworthy Electrician?
Just pop your details below and we  will get back to you shortly
Quick Service On Emergency Call
If you're faced with an emergency and need a fully qualified electrician to come to your assistance, look no further than Ohms Electrical Limited.
All reviews for Ohms Electrical Limited are from Google Reviews and have been subject to a clear and transparent review process to give you peace of mind that you're hiring a personable and professional trade.