Portable Appliance testing
What is Portable Appliance Testing?
PAT testing legislation was put into effect to ensure that all companies conform to the Health and Safety at Work Act of 1974, Electricity at Work Regulations of 1989, Provision and Use of Work Equipment regulations of 1998 and the Management of Health and Safety at Work regulations of 1999.
Portable appliance testing or PAT Testing is the process of checking electrical appliances for safety through a series of visual inspections and electronic tests.
PAT testing law requires that all landlords, employers and even self-employed individuals make sure that their portable electrical appliances are safe and are suitable and used for the purposes intended. These appliances should always be maintained properly and remain in good working order.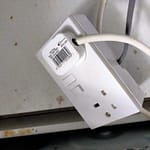 Why do I need to have my appliances tested?
The current law requires that all employers and landlords maintain portable appliances and ensure their safety. This is done through testing of the appliances to safeguard against damage and to make certain that these items perform properly.
 The best way of ensuring that your appliances are safe is to have a PAT test carried out on them. This is a good way as a landlord or employer to ensure that you are meeting legal obligations to maintain high standards of electrical safety in their rented property or workplace.
Conforming to PAT testing regulations will help you to ensure that the portable appliances in your business are safe and help you to avoid violations.
To establish the safety and suitability of your electrical appliances, a competent person will carry out a visual inspection of the appliance, its plug and lead. They will also inject test signals into the cable and appliance to ensure their integrity.
The visual inspection for all classes of equipment includes:
Check the supply socket for signs of overheating or damage.
Examining the plug for any signs of damage, bent pins, it's maximum load rating, proper retention of the cable and that the correct fuse is fitted.  For moulded plugs this will involve removing and refitting the fuse.  For non-moulded plugs, the top will be removed, the fuse checked, the cable grip checked and all connections checked for looseness or exposed wire strands.
Examination of the cable over it's entire length looking for signs of unacceptable damage.  For long extension leads this will involve unwinding the whole length.
Examination of the equipment for any signs of damage that could affect the electrical safety.
Following satisfactory visual inspection the following tests will be carried out:Simple function test of the supply socket to check that all connections are present and correct.
Continuity test of the protective earth for Class 1 equipment only.
Insulation test.
Leakage current test.
Polarity test.
Electrical work must only be carried out by people who have the necessary knowledge, skill and experience needed to avoid danger to themselves and others.
According to PAT testing legislation, a competent person is someone who has experience or knowledge of being able to check and test appliances for safety purposes. Those with knowledge of electricity in general as well as anyone who has experience in electrical work can be deemed capable.
Many registered electricians will carry out portable appliance testing.
Once the inspection and testing is completed you should receive a report that details the following as a minimum:
An inventory containing each appliance type, name, location and description of its suitability for continued use (Pass/Fail).
A full set of test results for each appliance tested
A full list of any failed items with an explanation of their failure
A visible pass or fail label on each appliance detailing the inspection date, next test due and the inspector's signature.
If you are not technically aware, then the competent person (tester) who carried out the inspection and testing should be happy to talk through your report with you and advise you of any further action required.
Need a Local reliable Trustworthy Electrician?
Just pop your details below and we  will get back to you shortly
Quick Service On Emergency Call
If you're faced with an emergency and need a fully qualified electrician to come to your assistance, look no further than Ohms Electrical Limited.
All reviews for Ohms Electrical Limited are from Google Reviews and have been subject to a clear and transparent review process to give you peace of mind that you're hiring a personable and professional trade.