Battery Storage Installation
The Puredrive Energy Battery Storage System is a fully integrated AC battery storage system used primarily for residential use.
Using lithium ion phosphate battery cells, this 5/10 kWh energy storage system provides enough energy storage for most daily uses and the energy can be monitored remotely so that the owner can literally see the amazing benefits of battery storage systems and the reduced energy bills and clean green power it can offer.
About Puredrive Energy Storage
Puredrive Energy are a British company that designs, develops and builds there own range of battery storage systems. With elegant aethetically designed outer shells, the Battery Storage systems produced by Puredrive offer owners a good looking green energy solution that can cut down their energy bills by taking advantage of the low energy costs that battery storage systems can take advantage of.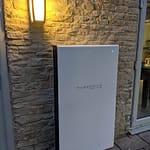 Why Choose Ohms Electrical Limited?
With 15 years' experience of electrical installations, you can rely on Ohms Electrical Limited to keep your family safe. We are Certifieid installers of Pure Drive Battery systems. We will guide you every step of the way. Please do not hesitate to call us to discuss your needs. We can be contacted on 01582 932 533 or 01462 506 352, or via email at hello@ohms-electrical-limited.co.uk. We will get back to you as soon as possible. 
Need a Local reliable Trustworthy Electrician?
Just pop your details below and we  will get back to you shortly
Quick Service On Emergency Call
If you're faced with an emergency and need a fully qualified electrician to come to your assistance, look no further than Ohms Electrical Limited.
All reviews for Ohms Electrical Limited are from Google Reviews and have been subject to a clear and transparent review process to give you peace of mind that you're hiring a personable and professional trade.