Ethernet Wiring Installation
We install ethernet wiring in Luton, Dunstable, Harpenden, St Albans and Hitchin and surrounding areas check our areas we Cover to see if we can help
f you are thinking of revamping your home office and installing a super-fast internet connection with a wired ethernet cable installation, then you have come to the right place. Our electricians based in Luton complete ethernet cable installations all across Luton and the surrounding areas such as Hitchin, Slip End, Barton-le-Clay, Hemel Hempstead, Dunstable, and any other surrounding regions. Just give our specialists a call on 01582 932 533 or 01462 506352 if you want to book our service or ask us any questions!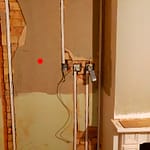 Ethernet cable installations
Smart TVs, Next-Gen Consoles, PCs and Laptops, heating systems, and even security systems all require a strong network connection in this day and age. Despite the fact that WiFi is a vital component of modern technology, it cannot compete with the speeds and dependability of a gigabit cable network. And with more and more people starting to work from home as businesses look to incorporate hybrid working into their model, there is more of a demand for internet connection in people's homes.
Smart TVs, PCs, and Laptops, as well as media-rich programmes like Netflix, Amazon Prime Video, SkyGo, Disney+, Zoom, Teams, Meets, or any other type of video conferencing or online gaming, will run faster and more reliably if they are connected directly to a Gigabit switch at the heart of your network. If you have small children who play games on gaming consoles like Fortnite and FIFA 22, there's no doubt they've complained about a sluggish internet connection contributing to them losing a game!
If you're interested in our Ethernet wiring services, please contact us right away by giving us a call on either 01582 932 533, or  01462 506352. Alternatively, you can drop our team an email at hello@ohms-electrical-limited.co.uk
We offer WiFi enhancement in Harpenden
Of course, you can't hardwire everything, and with so many mobile devices in homes, having decent WiFi is essential as well. Our WiFi team is made up of WiFi experts that can help you with any WiFi issues you may be having. Poor WiFi signal locations, Extended WiFi Coverage, and WiFi Installation Upgrades in areas of your home that do not receive a decent WiFi signal are all options. We provide a comprehensive variety of professional WiFi services, WiFi coverage solutions, and WiFi installation for household WiFi upgrades.
If your current WiFi router is producing a weak WiFi signal and you have WiFi black spot areas, Ohms Electrical Limited offers a Home WiFi upgrading service. Our engineers can rapidly increase the coverage and range of your WiFi services. 
Do you want to know more about our internet services? Contact us right now!
Our Luton electricians complete ethernet cable installations throughout Luton and the neighbouring areas, including Hitchin, Slip End, Barton-le-Clay, Hemel Hempstead, Dunstable, and others. If you wish to schedule our service or have any inquiries, please call our professionals at 01582 932 533 or 01462 506352
Need a Local reliable Trustworthy Electrician?
Just pop your details below and we  will get back to you shortly
Quick Service On Emergency Call
If you're faced with an emergency and need a fully qualified electrician to come to your assistance, look no further than Ohms Electrical Limited.
All reviews for Ohms Electrical Limited are from Google Reviews and have been subject to a clear and transparent review process to give you peace of mind that you're hiring a personable and professional trade.