New Electrical Installations
If you've expanded your home with a new loft installation or extension, then you'll want the right lights, sockets and electrical wire installations to suit exactly your needs.
No job is too big or too small for our experienced team. At Ohms Electrical Limited we know how important it is to have access to a reliable local electrician. We are familiar with the area and its housing stock, and we have long-standing relationships with local shops and suppliers. So, whether you want a single new external socket or switch, or need a complete replacement fuse board, you can be sure that your enquiry will be dealt with knowledgeably and efficiently. We complete all  our work to the highest industry-set standard. Many of our clients have  left us very positive feedback, so take a look and browse our reviews page.
Our fully-qualified electricians offer a range of electrical installation services throughout Luton and the surrounding areas, including Hitchin, Dunstable, Harpenden, Barton-le-Clay, Caddington, Markyate, Slip End, Flamstead, Wheathampstead, Houghton Regis, Stopsley, Wigmore, Bushmead and Barton Hills. We have been operating in the local area for over 15 years and pride ourselves on our knowledge, workmanship and value for money. If you need a new electrical appliance installed, no matter how small, then please do not hesitate to call us on 01582 932 533 or 01462 506352, or read on for more information about our services.
Contact us if you are completing a loft conversion, extension or detached home office/shoffice. Our CPS registered and Blue Flame Certified electricians will install all the necessary electrics, including wiring, lights, sockets and switches. We will also advise on the removal of old electrical installations (wires, consumer units) and replace them with brand new hardware compliant with all current safety regulations. If you have any questions about new installations, please complete our online contact form or drop us an email to hello@ohms-electrical-limited.co.uk.
If you would like to book a new electrical installation, get in touch with Ohms Electrical Limited. Our vans can be seen out and about in Luton, Barton-le-Clay, Caddington, Markyate, Slip End, Flamstead, Wheathampstead, Houghton Regis, Stopsley, Wigmore, Bushmead and Barton Hills. Call our expert team today on 01582 932 533 or 01462 506352 if you have any questions about our working areas, or if you are ready to install a new electrical system.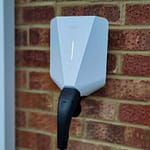 Whether you need a practical solution to a dark path or driveway, or you just want to illuminate a specimen plant, look no further than Ohms Electrical Limited. We install a variety of quality garden lights, including spike lights, decorative front door lights, bollards, up lights and security lights. Call us today to discuss the full range of options or click on our gallery to see examples of our recent work.
Outdoor Electrical Supplies
Our expert electricians are happy to install any outdoor electrical system. Trust Ohms Electrical Limited to get the party started by installing your hot tub or outdoor audio-visual equipment. We also fit mains-operated pond pumps and water fountains to keep your garden looking awesome. Alternatively, if you're working from home and looking to install a shed, garage, home office (or shoffice!), talk to Ohms Electrical about connecting you in the best way. Call us on 01582 932 533 or 01462 506 352 to request a free fixed quotation today.
Ohms Electrical Limited can install discreet weatherproof sockets which open up a whole world of alfresco possibilities. Mow the lawn with ease and in safety, play games or watch TV outside with these nifty devices. If you live in Luton or the surrounding areas, call us today and start relaxing and dreaming big in your back garden.
Need a Local reliable Trustworthy Electrician?
Just pop your details below and we  will get back to you shortly
Quick Service On Emergency Call
If you're faced with an emergency and need a fully qualified electrician to come to your assistance, look no further than Ohms Electrical Limited.
All reviews for Ohms Electrical Limited are from Google Reviews and have been subject to a clear and transparent review process to give you peace of mind that you're hiring a personable and professional trade.