Fuse board upgrades for Luton, Dunstable, Hitchin, Harpenden and the surrounding areas.
If you are thinking about changing your fuse board then getting the best advice from a qualified electrical professional will mean a safe, correctly installed system that will last for decades.
If you choose to upgrade your fuse box, it is important to check that your electrician is fully qualified. Ohms Electrical Limited is CPS registered with Blue Flame Certification, so you can be confident that our work conforms to the highest industry standards. We are also TrustMark registered and Part P installers, meaning that our workmanship complies with all current Building Regulations. Ohms Electrical Limited is a trusted local firm with many positive customer reviews behind us. Head over to our reviews page, then call us to request a quote.
Fuse boards (also called consumer units) are the beating heart of your home. These vital pieces of kit manage the electricity coming into your property, and distribute it to all your sockets and switches. Most people don't give their fuse boards a second thought – until it fails! As well as powering all your devices and appliances, fuse boards play a critical safety role. If any of your wiring is faulty, your fuse board will protect you. As soon as there is a problem, the fuse board will trip the circuit, preventing further damage, or even fires. If you have any questions about upgrading your fuse board, call Ohms Electrical Limited's expert electricians today. Phone 01582 932 533 or 01462 506 352, or leave us a message using our online contact form and we will get back to you.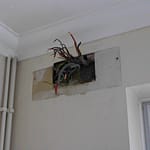 Should I Upgrade My Fuse Board?
If you are uncertain about the age or condition of your fuse board, we would highly recommend having it checked by one of Ohms Electrical Limited's qualified electricians. Major electrical works may require an upgraded fuse board.
Older fuse boards are more likely to malfunction. Even if your system has been regularly serviced over the years, it could be subject to general wear and tear. This can lead to inefficiencies or failures.
Outdated models may also be constructed of materials which no longer conform to modern regulations. For example, fuse board backs made of   wood or constructed in plastic pose a fire risk potentially helping it to quickly spread. A metalboard, on the other hand, will help contain a fire. We recommend that you upgrade your fire-propagating fuse board as soon as possible.
We're here to help and make sure that you only upgrade if you need to. If you have any questions, please do not hesitate to contact Ohms Electrical Limited by emailing us at hello@ohms-electrical-limited.co.uk or leaving a message online.
New fuse boards are fitted with one or more RCDs (Residual Current Devices). If you use electrical tools such as lawn mowers and hedge trimmers you are probably already familiar with RCDs. These detect any imbalances between incoming and outgoing currents, tripping the circuit if there is an electrical 'leakage'. To check if your existing fuse board has an RCD, open the box and look for the 'T button'. This is normally yellow, black or grey.
If your board does not have an RCD switch, we would recommend replacing it. Investing now could save you time, money and grief in the future. Remember that it is mandatory to have RCD protection if you are planning any other electrical upgrades (for example, new sockets and switches, a new electric shower or pump, or new lights). Speak to Ohms Electrical Limited today about upgrading your existing unit. Ring us on 01582 932 533 or 01462 506 352, or send us your questions using our online contact form. We will get back to you as soon as we can.
Why Choose Ohms Electrical Limited to Replace Your Fuse Board?
At Ohms Electrical Limited we pride ourselves on going the extra mile for our customers. Before we start work, we will complete a full EICR (Electrical Installation Condition Report). Our expert electricians will assess the condition of your existing circuitry and identify any issues pre-installation. We will then advise on the best replacement products for your budget and requirements.
Ohms Electrical Limited's aftercare service is second-to-none. When we have fitted your new fuse board we will carry out a series of tests to ensure that everything is working smoothly and safely. Your new electrical installation will be fully guaranteed and fully future-proofed. Visit our reviews page to see what our satisfied customers have said.
Our electricians have over 15 years' experience in the industry, so you can trust us to give you professional and reliable advice. Get in touch today to speak to us about installing a new fuse board. You can call us on 01582 932 533 or 01462 506 352, or send us a message using our online contact form.
Ohms Electrical Limited offers fuse board replacement services in Luton, Dunstable, Hitchin, Harpenden and the surrounding areas. We accept work in Barton-le-Clay, Caddington, Markyate, Slip End, Flamstead, Wheathampstead, Houghton Regis, Stopsley, Wigmore, Bushmead and  Barton Hills. If you can't see your area listed here, check our [areas we cover page] if you cannot see get in touch to see if we can still help you.
Need a Local reliable Trustworthy Electrician?
Just pop your details below and we  will get back to you shortly
Quick Service On Emergency Call
If you're faced with an emergency and need a fully qualified electrician to come to your assistance, look no further than Ohms Electrical Limited.
All reviews for Ohms Electrical Limited are from Google Reviews and have been subject to a clear and transparent review process to give you peace of mind that you're hiring a personable and professional trade.