Do you require the installation of an EV charging station?
Our approved electricians install EV charging points around Luton, including areas such as, but not limited to, Dunstable, Harpenden, St Albans, and Hitchin. Areas we Cover. To get advice or a free estimate for an Electric Vehicle charging point installation at your house, please phone 01582 932 533 or 01462 506352. 
Why should you use Ohms Electrical Limited to install a home EV charger?
We have over 15 years of experience as a team, so you can count on us to produce quality installations. We've also received training and are pleased to be CPS certified with Blue Flame Certification, EASEE registered, and Part P registered installers. This is proof that we are completely trained and certified to perform any electrical repair, giving you peace of mind that you are in good hands. If you pick us to install a car charging station in your house, you can relax knowing that you're in excellent hands. 
Our electricians are also City & Guilds certified, indicating a high level of experience in the installation of EV charging points. We're pleased to have received over 80 good Google reviews, with a star rating of 4.9/5, and to have had regular excellent feedback on our EV charging point installations!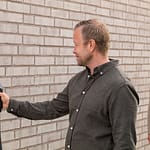 Proudly registered as official Easee installers (UK-wide)
Another reason why you should choose us to instal your EV charger is that we are official installers of Easee One (domestic) and Easee Charge (commercial) EV chargers. We are proud to say that we know exactly the right product when it comes to electrical vehicle chargers – and this is it!
Why should you get an Easee One EV charger?
he Easee One charger allows you to charge up to three charging robots on one fuse, meaning all connected cars can be charged at the same time! All Easee One chargers also come with internet access via a mobile network, so you can track the level at which your car has charged!
If you own an electric car or vehicle and need an electric vehicle charging station installed in your Harpenden house, the Easee One charger is by far the best charger on the market. 
The Charging Robot is 69% smaller and lighter than any other electric chargers on the market
EV Charging Station Installation
You can charge your electric car wherever you are with our EV charging point installation services, whether at home or at work. Given the ever-increasing expense of petrol, electric car use has soared in recent years, so whether you want an EV charging station built at work or at home, we can help. 
Please visit our gallery page to view any of our previous EV charging point installation work. We also ensure that all installations are carried out in line with your requirements and to the greatest possible standards. Our customers have been quite complimentary of our services; you can see some of their remarks on the reviews page
EV charging points installed at homes across Luton
Despite the fact that OLEV funds are no longer available, we can still provide cost-effective solutions. The majority of people choose to charge their electric vehicles at home since it is more convenient. Our highly experienced and certified staff can help you establish safe and efficient electric charging stations. 
We can install EV Charging Stations in commercial spaces
As well as offering the installation of an Easee One charger in your homes, Ohms Electrical also offer the installation of commercial car charging points in spaces such as office spaces, car parks or other commercial areas. The Easee Charge model allows you to charge up to 10x faster than any other regular outlet, and supports charging up to 22kW!
Just get in touch to enquire about our services! 
Get in touch for EV charging point installations today
Do you need an EV Charging Point installed in Dunstable? We install electric vehicle charging stations in Luton, harpenden, St Albans, and Hitchin and areas we Cover. If you live in any of these regions, please contact us for a free, no-obligation estimate by phoning 01582 932 533 or 01462 506352, or send us an email using our contact form, and we will answer. We hope you will choose Ohms Electrical Limited for all of your EV charging point requirements.
Need a Local reliable Trustworthy Electrician?
Just pop your details below and we  will get back to you shortly
Quick Service On Emergency Call
If you're faced with an emergency and need a fully qualified electrician to come to your assistance, look no further than Ohms Electrical Limited.
All reviews for Ohms Electrical Limited are from Google Reviews and have been subject to a clear and transparent review process to give you peace of mind that you're hiring a personable and professional trade.