ELEctrical safety reports
Electrical Inspection Condition Reports
Any electrical installation will suffer wear and tear over its lifetime. Just as you regularly service and MOT your car, so you should get a professional electrician to inspect and test your electrical systems. Regular servicing keeps you in control, and could you save you the cost of full rewiring.
The commonest electrical safety report is the Electrical Inspection Condition Report (EICR, formerly PIR ). These are used in a range of situations, including by prospective homebuyers and domestic and commercial landlords. Please see our FAQs below for more information.
Ohms Electrical Limited has over 15 years' experience carrying out safety checks in and around Luton. We are very proud of our work, and our customer reviews speak for themselves REVIEWS. Call us today on 01582 932 533 or 01462 506352 to book a visit from one of our accredited electricians or use our online form on this page.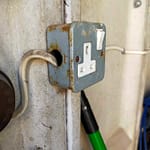 FAQs about Electrical Inspection Condition Reports
Q: Which geographical areas do you cover?
A: We complete electrical inspection reports in Luton and the surrounding areas [Locations we Cover]including Barton-le-Clay, Caddington, Dunstable, Harpenden, Markyate, Slip End, Flamstead, Wheathampstead, Houghton Regis, Stopsley, Wigmore, Bushmead and  Barton Hills. If you would like further information on the areas we cover please do not hesitate to call us on 01582 932 533 or 01462 506352
Q: I am a domestic customer. Will Ohms Electrical Limited carry out a survey for me?
A: Yes, we produce surveys for domestic clients. If you are a prospective home-buyer it is recommended that you commission an EICR. EICRs are not included in the standard homebuyers' survey, but they may reveal potentially costly problems. Many clients use their EICRs to negotiate a better deal. If you own an older home it is recommended to get an EICR every 10 years to make sure your electrics are in good order. Ohms Electrical Limited are happy to carry out electrical inspections in any domestic property, so call us today on 01582 932 533 or 01462 506352.
Q: I am a landlord and I need advice on when to use EICRs. Can you help?
A: Since 2020 it has been mandatory by law for private rented landlords to have an EICR. These must be completed every 5 years, or when there is a change of occupancy. If landlords are caught without a valid EICR they could be fined up to £30,000. Contact Ohms Electrical Limited today to discuss your needs and book an EICR. Our local qualified electricians are CPS registered with Blue Flame Certification. As Part P registered installers, you can rest assured that Ohms Electrical will provide you with a full professional report that meets all your legal obligations. Please don't hesitate to get in touch with us on 01582 932 533 or 01462 506352 or submit your question via our contact form on this page
Q: Do you carry out an EICR before undertaking any major electrical works?
A: Yes, we will complete an EICR before we carry out major works (such as a fuse board upgrade). This will establish if a property is safe for continued use, and if any other repairs need to be carried out in advance of the works – for example, if any cables are damaged or there is a fault with earthing.
Q: If my EICR reveals any problems can Ohms Electrical Limited resolve them?
A: Yes, our qualified electricians will carry out all necessary work to ensure your property is safe and future-proofed
If you are a landlord or employer you should have your electronic devices PAT tested. Whilst as a Landlord there is no legal requirement for this, unless it's a House of multiple occupancy, many of our clients find peace of mind in knowing their equipment is in good order.As an employer it is mandatory to have all electrical equipment safe for use, as per the EAW act 1989 In high-risk settings such as construction sites it is recommended that you hire somebody with knowledge and experience to carry out a PAT test. Ohms Electrical Limited has been working with electrical equipment for over 15 years, so you can trust our electricians to carry out this work with diligence and integrity. For more information on PAT testing, ring 01582 932 533 or 01462 506352 and have a chat with us today. Alternatively, you can email us at hello@ohms-electrical-limited.co.uk
Need a Local reliable Trustworthy Electrician?
Just pop your details below and we  will get back to you shortly
Quick Service On Emergency Call
If you're faced with an emergency and need a fully qualified electrician to come to your assistance, look no further than Ohms Electrical Limited.
All reviews for Ohms Electrical Limited are from Google Reviews and have been subject to a clear and transparent review process to give you peace of mind that you're hiring a personable and professional trade.